The founding years of the "Bauerschweizer Käsewerk"
The company "Bauerschweizer Käsewerk" was founded by Franz Seraph Bauer in Wasserburg am Inn on 18 August 1887. The date of the marriage of Franz Seraph Bauer to Anna Maria Lux is regarded as the founding date of the company Bauer, because as of that day Franz Seraph Bauer started a family and subsequently started his self-employed activities as a "Schweizer". This term formerly was the professional title of a person who took care of dairy cattle, including looking after and milking the cows.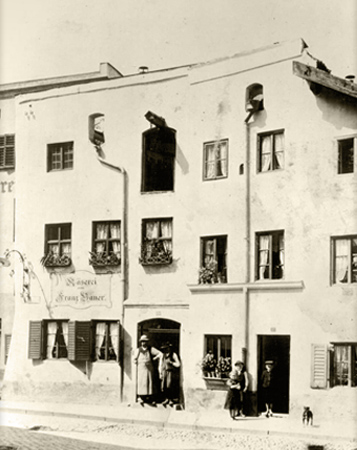 The business activities started in Wasserburg's historic town centre. Limburger and curd cheese were manufactured there. In addition, a farmer's market stand was rented to trade eggs, butter, clarified butter, curd cheese, noodles and additionally purchased cheese varieties.
The signs pointed to economic growth
After the death of Franz Seraph Bauer, his son Josef Pankratius Bauer took over the company management at the age of 26.
Josef Pankratius Bauer had to serve in World War I. During that period, his wife Sophie steered the company through the very difficult years of war with extreme physical effort. In 1919, the company's owner returned home from war and continued to manage the "Bauerschweizer" business.
Yoghurt found its way to the market
Owing to a need for more production space the company left the historic town centre and moved to the south of Wasserburg. The headquarters of Bauer are located in the Tegernau neighbourhood to this day.
"Der große Bauer" was born
The company Bauerschweizer became J. Bauer KG. At the same time, Ulrich Bauer took over the management of the company at the age of 32.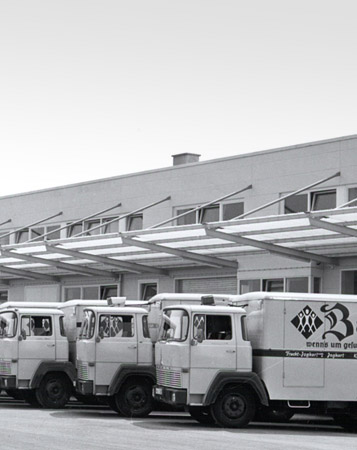 The success story of "Der große Bauer" began. Thanks to the market launch of the fruit yoghurt in the 250g pot, Bauer became the largest German fruit yoghurt manufacturer.
125 years and still no end in sight
Markus and Florian Bauer took over the management from their father, who continues to assist in an advisory role. Thus, the company is now being managed by the family in its fifth generation.
Bauer celebrated its 125th anniversary: More than 10,000 visitors coming from far and near were welcomed at an open house day, and a party was given for all employees to celebrate the company's big day.